Boating Accessory Checklist: Boat Horn, Sand Spike, Anchor System And More
A boating accessory checklist for your inflatable boat will include a boat horn, an anchor system, a beach anchor, and safety gear.


I have discovered a number of accessories that make boating with an inflatable boat much easier, safer, and more fun.
I took a photo of the gear that I regularly carry in my inflatable boat. Some items, like the launch wheels I only carry when I know I will need them, as they do take up quite a bit of boat space. But it is worth it if I am going to use them!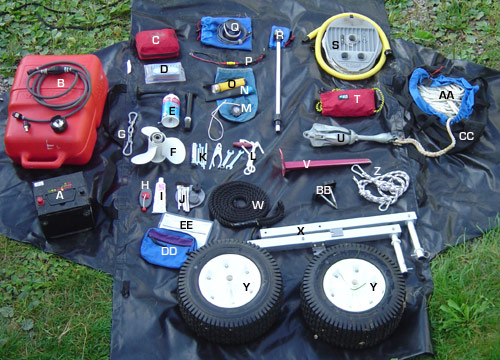 Here is what is in the photo:
A - battery for motor
B - fuel tank
C - first aid kit
D - matches
E - horn
F - spare prop
G - motor safety chain
H - clam shell quick patch
I - hypalon glue
J - glue brushes and patch material
K - motor tool kit
L - emergency starter cord for motor
M - pressure guage
N - knife
O - waterproof flashlight
P - fused wire to attach lights to battery
Q - front light (red/green)
R - rear light (white)
S - foot pump
T - throw rope
U - anchor
V - sand spike
W - bow line (normally on the boat)
X - launch wheel brackets
Y - launch wheels
Z - line for towing the boat or towing a tube
AA - anchor rope (200 feet)
BB - launch wheel bolts (zodiac system)
CC - anchor rope bag
DD - tool/patch kit bag
EE - motor owner's manual

A boating accessory can be so important I call it a "MUST HAVE".
Some of my "must haves" include:
Then there are all the accessories that are sure great to have!
Here is our list of great to haves:
For those of you lucky enough to have a yacht, some type of davit system is important.
There are many popular davit and motor mount systems
Glue on Weaver davit
Pivot up davit
Sling davit
Slide on davit
Weaver Leaver
If you are looking for a gift for a boater in your life.... there are many things to choose from. One of the joys of most boaters is checking out all the useful gear available in marine stores.
If you need a few good ideas for boating gifts then check these out


Return from boating accessory to My Inflatable Boat.com