Cheap Inflatable Boats: Beware of Lower Quality Discount Inflatable Boats
All the brands of lower price cheap inflatable boats are trying to get you to buy their brand based on the claim: "We sell the best boat for the lowest price!".


But is it true?
These lower priced boats are generally manufactured using the original design manufacturing model (not always), where the company ordering the boat has little input into the boat design, materials or quality control of the finished product. These are called white label or private label products.
Read more about manufacturing here.

Some of these boats are marketed by small internet-only based companies, some are sold by large companies with many years of sales and a large dealer network.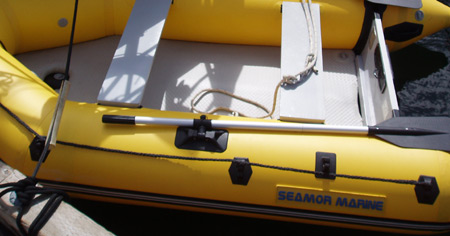 There are some important points to think about if you are considering purchasing one of the lower priced cheap inflatable boats.
Will the company be there to help you if you have trouble with the product? (read customer reviews and forum comments)
How is the material put together - glued or welded (welded PVC tube seams are considered better, and usually last longer - read more about it here )
What is their warranty? (5 years is the best warranty I have found on glued seams - 10 years on welded seams - but this is not from a private label company! The fabric often has a longer warranty than the seams on cheap inflatable boats, I am not sure what good a pile a fabric that has come unglued would be!)
With some of these companies disappearing without even fulfilling their orders (Shark inflatables) and other companies engaged in court cases over quality issues (Wild Thing), my concerns are well founded. Reading inflatable boat reviews can be helpful, but be wary of the reviews that are just a sales pitch, or reviews by people who just received their boat and love what they see but have not even put it in the water yet. (I see this a lot on forums)
Google phrases like "quality issues" or "trouble with..." for the brands of cheap inflatable boats you are thinking about, and see what you find.
These companies are very easy to set up..... and sadly for the purchaser, these companies can disappear very easily too!
These are the brands where you want to be sure the distributor has a good reputation and will be there to take care of any concerns you may have in the future.
The boat brands which appear to be white label or private label brands based on their website information include:
Aakron - USA, Australia, New Zealand
Adventure - Russian - most likely manufactured in China
Aqua Dutch - The Netherlands
Aqualine - California, USA
Aquamarine - British Columbia, Canada - internet - made in China
Aquamax - New York, USA - internet
Aquaquick

Aquastar
- California, USA, - dealer network and internet
Badger - Russian - made in Korean
Baltik
Delphinus - internet based out of California, USA
Endurance - British Columbia, Canada - dealer network
Excedo - Atlantic, Canada - internet
Excel - Britian - internet and dealers
Ezen Boats - California based - made in South Korea
Force 4 - New Zealand
Gladiator - NSW, Australia
Imnasa Marine Products - Spanish marine distributor probably a made in China product
Island - Australian - internet and dealer network
JP Marine - California, USA
Liberty - Canada - internet and dealer network
Matrix - Australian
Maxxom - Washington, USA - internet and dealer network
Millstream - Australian
Nautiline - Italian brand of Nautimarket
Newport - Australian
Ocean-pro - Australian
Pelagic - Australian re-labelled JingSui
Red Star Marine - Utah, USA
Royal
Rubber Duck - British Columbia, Canada - internet and dealers

Saturn
- Korean brand made in China
Salter - Canadian brand - made in China
Seago - Great Britian

Seamax
- British Columbia, Canada - internet and dealers
Seamor Marine - British Columbia, Canada
Seapro - United Kingdom
Sea Search - Brand of E.P. Barrus - United Kingdom - distributed through dealers
Sea Wizard
- Australia
Sun Sport - Brand of E.P. Barrus - United Kingdom - distributed through dealers
Tadpole
Waveco - United Kingdom
Waveline - United Kingdom
Wetline - United Kingdom
Yam - Malta
Zoik - Colorado, USA
Z-Ray - Canada - distributed through Canadian Tire
Return from Lower Price Cheap Inflatable Boats to My Inflatable Boat.com