Boat Trailer Parts And Accessories: Small Boat Trailer Hardware and Supplies
You don't need to get carried away buying boat trailer parts and accessories, but a few good ones make the whole experience easier and safer.


Maintenance is something few people enjoy, and most put off.
The more toys you own the more time you spend maintaining them.
Washing, lubing, repairing.
The story of my life!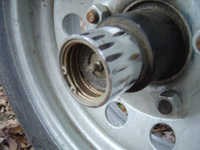 Any accessory that decreases the time I spend on maintenance is worth its weight in gold!
Accessories to Minimize Maintenance
Bearing Buddies are a prime example of an accessory which decreases maintenance, and increases safety.
Repacking wheel bearings is not a favorite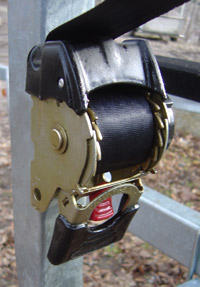 pastime for very many people. So unless your trailer has sealed oil-lubed bearings, get yourself some bearing buddies, they have rave reviews.
I have not had mine for long enough to give any honest feedback yet...... I'll try to update in a couple years.

Accessories to Make Loading Easier
Guide rollers or guide bunks
Trailer steps
Accessories to Make Tying Down Safer
Ratchet straps
Transom straps
Transom saver outboard motor brace

I attached a seat belt style retractable ratchet strap to one side of my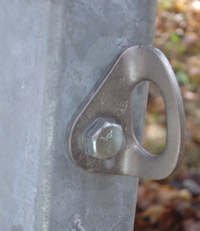 boat trailer, and a stainless steel climbing anchor to the opposite side of the trailer to make it simple and quick to securely tie down the boat. (see the photos to the right)
Replacement Parts
Trailer parts will sooner or later become a necessity, as boat trailers tend to have a tough life.... salt water, repeated dunking, neglect.
Face it a boat trailer is one of those things you want to work when you need it but really don't spend much time thinking about.
For more information about a few parts that you might need check out the following pages:
Return from Boat Trailer Parts to Boat Trailers
Return to My Inflatable Boat.com