Inflatable Launching Wheels: How To Launch A Small Boat Without A Trailer
Inflatable launching wheels, or boat transom wheels attach to the transom of your boat and make it easy to maneuver your boat to the waters edge, a blessing in tidal waters after the tide had gone out!


I installed a set of Wheel-a-Weigh launching wheels, by Davis Instruments on our Bombard Typhoon 420 and was very happy I did.
With our inflatable launching wheels I could pull our boat with a 105 lb (48kg) motor for long distances by myself on flat ground, and up moderate slopes with an assistant.
The support bar on this brand is a rectangular aluminum bar and is rated for 300 lbs (136 kg) on hard surfaces and 200 lbs (91 kg)on soft.
Our boat was 150lbs (68kg) and our motor was 105 lbs (48kg) for a total of 255 lbs (116kg).
I knew I was pushing the weight limit, and sadly the support bar began to bend after pulling the boat up too many soft sand beaches.
The large wheel diameter was great though, and easier to move over most surfaces.
When we bought our new boat, I searched out every brand and style of launching wheels because I needed a stronger set for the boat and motor combined weight of 370 lbs (169kg).
Davis Instruments used to make a set, but they stopped production.
I searched and searched and managed to find a set!
They are great!
Here they are on our Zodiac Grand Raid MKII.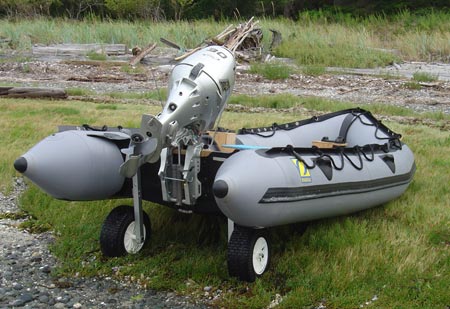 Below is a list of brands of inflatable launching wheels that I know about, along with some comments
Beachmaster Boat Wheels - New Zealand (525 lb/240 kg)- flip up non removable design with rubber tires - do not extend above top of transom when folded which is great - do not extend below motor when lowered which means they cannot be used for surf landings - non removable design makes folding boat more difficult
Ceredi Nautica - Italian design with long arm that flips up while motoring - 16 inch (40 cm) rubber tire on plastic rim
Dinghy Dolly (250 lb/ 113 kg) - short arm flip up design made of nylon resin - small wheel approximately 6 inches (15cm) - very similar to discontinued Pelican wheels - also similar design to Waveline - user reviews indicating poor quality and hard to pull over sand show up on boating forums
Easy Launch (400 lb/181 kg) - American designed cast aluminum flip up style with hard plastic wheels - polyethylene 12 inch (30 cm)wheels are 6 inches (15 cm) wide for good flotation in sand - also offer a bow dolly with two wheels for easy launching
E-Z Roller Launch Wheels (300 lb/136kg)- US product with flip up design also easily removed while underway - 16 inch (40cm) rubber tires on plastic rims


E-Z Tote - American made transom mounted wheels with ball bearings for launching and slow speed road use - 12 inch (30 cm) rubber tire on steel rim
Honwave Transom Wheels - unique bracket designed for Honwave air ribs as well as for standard transom mounting - 12 inch (30 cm) wheel - manufactured by an Italian company by the name of Trem
IBS Up and Over - stainless steel with long arm and 16 inch (40 cm) wheel (330 lb/150 kg) - Raft Runner with short arm and small wheels has been discontinued
Marathon Leisure - UK marine distributor
Pelican Dinghy Dolly (220 lb/100 kg)- small 5 inch (13 cm) hard plastic wheel - NO LONGER AVAILABLE
Perneborn Launch Wheels - Swedish design and manufacture - flip up design that easily locks in up or down position - non removable design - do not extend above transom when folded which is nice - do not extend below motor when lowered which means they cannot be used for surf landings - non removable design makes folding boat more difficult
Plastimo - European stainless steel flip up design similar to Davis Instruments in the US - looks like they can be flipped up or removed as desired
Waveline - graphite filled nylon resin construction - small hard wheel on a short arm - they flip up when on the water - similar to the discontinued Pelican launch wheels
Wheel-a-Weigh - Davis Instruments - 8 inch hard rubber tires (250 lb/113 kg)or 16 inch (40 cm) soft rubber tires (300 lb/136 kg)- I used mine with the 16 inch (40 cm) soft tire extensively and loved them. Currently have a beefier set made by Davis Instruments and rated for 500 lbs (227 kg) - I love the wide tires..... and they are cumbersome when storing them (everything has trade offs)
Zodiac - Zodiac launch wheels use a Zodiac specific mount (pin at the bottom of the transom and bolt through the top) - available in stainless steel in the UK with 16 inch (40 cm) wheels - Davis instruments used to make some models to fit the Zodiac system
Make sure you purchase inflatable launching wheels that are rated for the weight of your boat and motor and remember the size of the wheels will greatly affect how easy they are to use.
Small diameter, narrow hard plastic wheels are hard to roll across soft surfaces like sand, fine gravel. Larger diameter wide wheels roll more easily.
I have used my inflatable launching wheels on all kinds of sand, gravel, cobble, and grassy shores, as well as on concrete and dirt boat launches. The large diameter, wide tire design makes it relatively easy to move the boat.
The photo above shows me launching on a very soft gravel and sand beach. I had to push very hard to get the boat out into the water. It would have been easier with two people!
An innovative wheel design called Wheelez looks like a neat option. Their wheels are designed to float over sand. I would love to see them fastened to an inflatable boat as inflatable launching wheels.
Inflatable launching wheels need to be either flipped up or removed once on the water. I always remove my wheels while underway, because they get in the way, I do not enjoy listening to the rattle, and the Zodiac system cannot be flipped up, but needs to be removed, then inverted, then re-attached....... way too much hassle for my liking.
Some flip up styles are easily removed once underway.
The Zodiac attachment system is cumbersome to install while on the water because the air filled wheel needs to be forced down into the water and engaged with the little pin at the bottom of the transom. Then the bolt is inserted through the top of the transom and fastened to the launching wheel bracket.
It is easy to remove though, just undo the bolt and push down. The wheel and bracket quickly bobs to the surface of the water.
I like the design of the Swedish and New Zealand inflatable launching wheels as they remain on the transom and lock up or down easily.
The two things I would not like are they are not easily removable from the transom when you fold up your boat, and they do not extend below the propeller when in the down position to make surf landings on beaches easier.
Each model has advantages and disadvantages.... you will need to figure out which is most important to you.

Return from Inflatable Launching Wheels to Boating Accessory

Return to My Inflatable Boat.com