Inflatable Fishing Boats - From a Small Dinghy Or One Man Pontoon Boat - To A Customized Fold Up Or Offshore Rib
Any one of the many inflatable fishing boats available can be a great choice when you are looking for flexibility, pack-ability, or portability in your fishing boat.


Collapsible fishing boats allow easy transport in your car, truck, or RV!

RV's and motorhomes always have storage concerns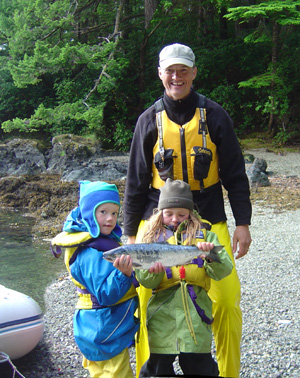 so this crowd is discovering how easy it is to pack and transport an inflatable boat.
Some models are fold-able, but even these are very stable once assembled. A stable boat is an excellent platform for fly fishing.
Fly fishing specific inflatables have frames to brace yourself against when fishing from a standing position.
Fly fishing is very enjoyable even for a beginner! Fly fishing made simple is one place to start learning how and where to go when in Colorado.
If you like trolling or casting on an inland lake, then you understand the lure of fishing. I love reading their tips, tricks and secrets on how to catch fish, as well as how to tie knots, and use lures and bait.
If you are out with your buddies on the ocean or a big lake, and the weather takes a turn for the worse, the seaworthiness of an inflatable ensures you will get home safely.
Let's take a look at different models:

Collapsible inflatables for fishing

Rigid inflatable boats for fishing

Pontoon boats for fishing

Return from Inflatable Fishing Boats to My Inflatable Boat.com