RIBs or Rigid Hull Inflatables
The Safest, Fastest, Funnest Boat
On The Water
Inflatable boats with rigid hulls are called RIBs (rigid inflatable boat)or RHIBs (rigid hull inflatable boat).
These boats just ooze "adventure" I think.


Look at some of the new models with marketing like "The Ultimate Adventure Boat".
The hull on rigid inflatable boats is made of fiberglass, aluminum, or plastic (some small boats). This rigid hull gives these boats a smoother ride and better handling in choppy water.
An inflatable tube with an external coating of PVC, Polyurethane or Hypalon is attached to the hull. This tube is what makes ribs so incredibly safe, and improves the handling in rough water.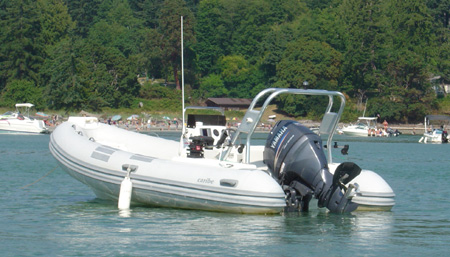 There are a number of important points to consider before you buy, such as......

what is the hull made of
what is the tube or inflatable collar made of
how is the tube attached to the hull
what features do want on your boat (this depends on what you plan to use it for)
Let's look at hull material first......
Aluminum
Aluminum is more durable if you plan to beach the boat a lot. Sand and pebble beaches can wear away at fiberglass bottoms more quickly.
Aluminum hulls can be lighter than fiberglass. An aluminum boat will weigh in at about 75% of the weight of a comparable size fiberglass boat.
Fiberglass
Fiberglass is a very strong material and more flexible than aluminum.
What does that mean? Well, impact with a rock may result in less damage because the fiberglass flexes before it breaks. Fiberglass is more easily repaired than aluminum, so the cost of the repair may be less.
Fiberglass also has the advantage that it is formed in a mold so there is no limit to the variety of shapes that can be created with it.
Plastic
Plastic hulls (made of Polyethylene) are found on a few small ribs which are designed for use as tenders. Plastic hulls are incredibly durable and stand up to rough use with little or no maintenance.
Now let's look at how the tube is attached......
The inflatable tube on a rigid inflatable boat is either glued on or uses some type of mechanical attachment system.
Mechanical attachment
The most common mechanical system is a bolt rope (which is a rope inside a flap of fabric) and a tube or slot on the hull to slide the rope into. (A three or more person job!)
I have read about a system using an inflatable bolt rope idea, where instead of a rope in a slot, an inflatable tube is inserted in a slot in the hull. When the secondary tube is inflated it holds the primary tube to the hull. (sounds neat, but I don't know of any company using the idea.)
Glued on
With fiberglass or aluminum hulls the tube can be glued to the hull with the same coated material that the tube is made from (PVC, Polyurethane, or Hypalon)
The actual process of creating a strong glue bond to the hull is quite extensive and requires careful control of temperature and humidity.
It can take up to 8 hours to properly glue a tube or collar to a rib. Something that the high quality brands will take the time and care to do.
Finally what features do you want in your boat?

There are more features and more options available for ribs than available for other inflatable types. It is even possible to get full cabins.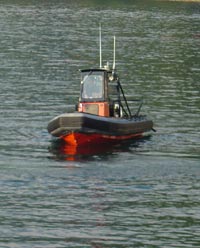 Features available include.....

steering console (center console or side console)

bench seats or jockey seats

radar arch

tow post for boarding/tubing

storage compartments

fuel storage (built in or not)

gear storage lockers

RIBs are increasing in popularity in North America.
They are the ultimate rugged seakindly adventure boat.

Return from RIBs to My Inflatable Boat.com