Folding Grapnel Anchor: Not The Best Small Boat Anchor On Sandy Bottoms
Folding grapnel anchors are the most common small boat anchor you can find.


These anchors are all about convenience. The folding arms mean there are no sharp points to damage you or your boat.
Take a look at the newer plastic coated anchors, obviously the plastic coating is not there to make the anchor hold better on the bottom! It is simply there to make the anchor look nice, and to protect your boat from potential damage from this heavy chunk of metal.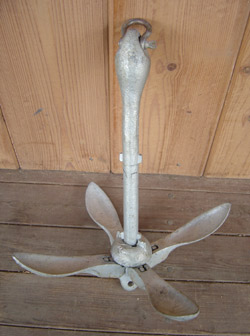 Small boat owners tend to use their anchor so infrequently that it is hard to justify an expensive anchor, and inconvenient to deal with a plow type anchor rolling around on the floor of the boat.
"Popular" obviously refers to the fact that lots of people buy them, not to their wonderful performance. Having watched a few boats drag on sandy bottoms using folding grapnel anchors, I would agree with reports that these anchors are not the best anchor types for sandy, muddy or clay bottoms. Reportedly they do hold well in rocky bottoms. In fact, I have read a few stories of folks having a hard time retrieving a grapnel anchor from a rocky bottom they hold so well in that substrate.
You can probably guess where most or all of these anchors are made..... they are inexpensive because they are made in China.
Some of the manufacturers of folding grapnel anchors include:
Donying Tuipu Metal Manufacture Company Ltd.
Dongying Xinao Ship Equipment Company Ltd.
Decorstainless International Company Ltd.
Rugao Shunda Shipping Metallurgy Company Ltd.
Weifang Qiangli Shipping Products Company Ltd.
Qingdao Yumetal Hardware Rigging Company Ltd.
Chongging Hi-Sea Marine Equipment Company Ltd.
Dongying Lostwax Precision Casting Company Ltd.
Dongying Xinghui Precision Metal Company Ltd.
Qingdao K-Wing International Trading Company Ltd.
CNBM International Corporation
Weifang Antai Malleable Iron Company Ltd.
Yi Chi Hsiung Industrial Corporation Ltd.
You can find these anchors sold as a kit with everything you need - a short length of galvanized chain, shackles, 25 to 50 feet of rope, a float on the end of the rope, a quick clip to attach to your boat, and a nice carry bag. These kits are a great way to get a complete boat anchor system in a ready to use package.
No matter which anchor you choose, there are always trade-offs. Grapnel style anchors win on the convenient and cheap side of the equation, but fall short on the performance side.

Return from Folding Grapnel Anchor to Boat Anchors

Return to My Inflatable Boat.com