Boat Trailer Lights: Easy Trailer Light Wiring
Boat trailer lights...... another one of those things that you wish would always work when you need them.


But alas..... boat trailer lights often do not work when we want them to simply because of the harsh environment we expect them to work in.
Repeated dunking in water, bouncing, rattling and shaking, repeatedly connected and disconnected, connector corrosion, harness wear, burnt bulbs..... the list of potential trouble spots goes on!

Fortunately trailer lights are not very complicated, so if you are having a problem a few tips could help you solve it.
Here is a trailer light diagram showing a simple wire harness with two tail lights and side clearance lights. This simple system has a 4 wire trailer light connector to the tow vehicle. One wire for left turn and brake, one wire for right turn and brake, one wire for tail lights, one wire for ground.
The three most common problems are corrosion, wear, and the bulbs.
Corrosion - creating poor connections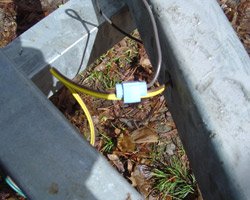 on the trailer light plug connector
on the bulb holder or pigtail
on crimp or splice connectors within the wiring harness
on the ground wire connection to the trailer frame
Wear
- creating electrical shorts
on the wire harness anywhere the harness is exposed to physical abrasion
broken wires at or near the connecting plug
broken wires in the bulb pigtails
Bulbs
- broken filaments
standard automotive bulbs will burn out on a fairly regular basis when used on trailers.... they just can't stand up to the bouncing.
LED trailer lights are common now.... and since there is no filament to break in an LED, they tend to last longer in rough use situations, like on the rear end of a trailer.
I know I will be swapping incandescent bulbs to LEDs as soon as my current set-up starts to cause me a problem.
If you need to upgrade the lights on your trailer consider buying LED boat trailer lights as a new unit. A dedicated LED assembly is better than just using an LED upgrade bulb in a bulb based light unit. An LED only light reduces problems created by corrosion of the bulb connector, and wire connections inside the lamp housing, as well as reducing the problems associated with vibration and bulb burn-out.
A few brands of lighting manufacturers include:
Bargman
Optronics
Peterson
Seasense
Trucklite
Wesbar
Another little tip ...... It is a good idea to disconnect the trailer lights from the tow vehicle before you submerge them in water for loading and unloading. This will protect your vehicle electrical system from any potential damage.... just remember to reconnect the trailer lights before you start driving.

Return from Boat Trailer Lights to Boat Trailer Parts

Return to My Inflatable Boat.com