Inflatable Boat Reviews About Foldable Boats Reveal They Can Still Perform On The Water!
Inflatable boat reviews indicate that collapsible boats are a popular choice.
Collapsible or foldable or roll up boats can all be carried in a car, truck or RV, and stored off season in the basement or garage.


Collapsible or foldable boats are often called "sport boats" or "dinghies".
How does one tell the difference?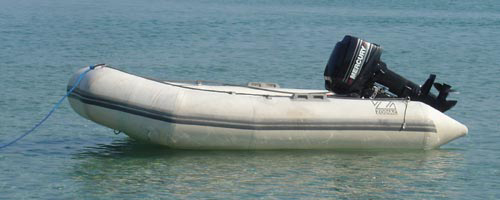 Inflatable boat reviews have a hard time distinguishing between more robust collapsible boats, often called sport boats, and light duty collapsible boats, perhaps more appropriately called dinghies.
The higher price brands build both sport boats (more robust collapsible boats) and dinghies (light duty collapsible boats). It is a good idea to learn the difference.
The Zodiac website used to use terms like "primary boats" and "secondary boats" to categorize their boats. I liked this definition as it was fairly indicative of the durability of the boat.
Primary boats would be boats built to stand up to use as your only boat or primary boat.
Now they use the terms "tenders" and "cruising". Tenders are the dinghies, the smaller lighter duty models. The cruising category includes the more robust models, the sport boats, but there is some cross over.
Other manufacturers use labels like "sport" or "professional".
This gets really confusing because many companies claim to make heavy duty sport boats, but the construction of the boats is identical to their light duty boats.
Hmmmm.... do you see a problem here?
Inflatable boat reviews don't always help if they simply compile the specifications provided by the manufacturer.
So let me try to make some sense of it if I can....... sort of my own style of inflatable boat reviews.
Let's start with light duty boats.
Light duty boats are often called inflatable dinghies, if you want to read more about dinghies read this page.

Most light duty inflatable boats are manufactured with PVC coated fabric. PVC boats have either welded tube seams, or glued tube seams. All PVC boats have some glued seams, the floor or accessories or handles may be glued on - even on mostly welded boats.
Welded PVC seams are generally considered more durable than glued seams.
Some manufacturers claim heat welded seams become brittle which leads to cracking and they claim welded seams are harder to repair.
Other manufacturers obviously disagree since they offer 10 year warranties on welded seams and only 5 year warranty on glued seams on the same boat!
Some inflatable stores refuse to sell PVC boats with glued tube construction due to the rapid deterioration of the seams in tropical sunshine.
Sadly, most inflatable boat reviews and most websites do not indicate if a particular boat has glued or welded tube seams. This is unfortunate because this is an important point!
I have noticed, that often boats that are of welded construction say so, and boats that are probably of glued construction say nothing. Not always, so ask before you buy.
Tips to identify light duty boats, also called family boats, recreational boats, or dinghies:
check the weight of the boat! A light duty boat will be light in weight (65kg/150lb for a 4m/14ft boat) when compared to a sport boats or heavy duty boats of the same size.
plastic transom mounts that are glued or welded to the tubes to hold the transom in place.
a boat model that includes sizes from 8ft/2.4m to 14ft/4m is most certainly a line of light duty boats!
Most of the Asian imports, white label and OEM manufactured boats are light duty boats.
There are more inflatable boat reviews about light duty boats than any other type of foldable boat, because the light duty boats are the lower priced boats more of these boats will sell.
I have owned a light duty boat, it was great! It was just not the best boat for me, but a light duty boat may be the best boat for you!
So what makes a "sport boat" different from a "light duty boat"? Continue reading here.

Return from Inflatable Boat Reviews to Inflatable Types

Return to My Inflatable Boat.com