Perfecting Your Inflatable Boat Motor Mount System Will Mean You Use Your Boat More - With Less Stress
The simplest inflatable boat motor mount system is to simply set it on the transom and tighten up the clamps.


Ahhhhh, if it were only always this easy!
What if your motor sits too low?
How can you tell if it is too low?
What if you want to hang your dinghy from the back of your yacht and keep your motor vertical without removing it?
What if you have a long shaft motor and need a short shaft for your transom height?
Let's begin, if you are using a standard inflatable boat motor mount system here are some points to consider:
Getting your motor height right
My first two inflatables were simple. I set the motor on the transom and the anti-cavitation plate on the motor was perfectly aligned about 1 inch (2.5 cm) below the bottom of the hull V.
I tightened the clamps, hooked up the fuel, attached a safety chain and voila.... ready to go.
Not so with my new boat.
In theory a short shaft motor should fit on a boat made for short shaft motors right...... wrong.
It is often necessary to shim a motor to the correct height.
If the motor is too high ventilation will occur and you will have a loss of thrust.
If the motor is mounted too low you will have a loss of speed, more difficult steering and more splash.
Ideally the anti-cavitation plate on the motor should be 1 inch (2.5cm) below the bottom of the V on your hull.
This is a general rule, and with use you may find that slightly higher is better to reduce splash or slightly lower is better because your propeller is ventilating to easily.
I custom cut a shim to raise my motor 1 inch, which has decreased the splash and improved steering response.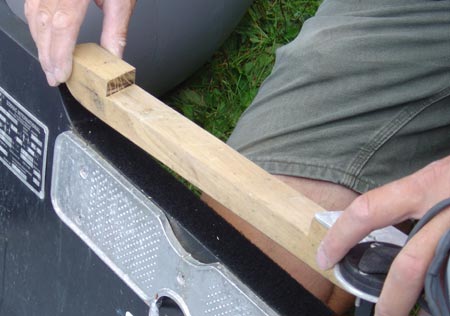 I put some industrial velcro on the shim and top of transom to hold the shim in place during motor installation since I do take my boat apart a few times per year.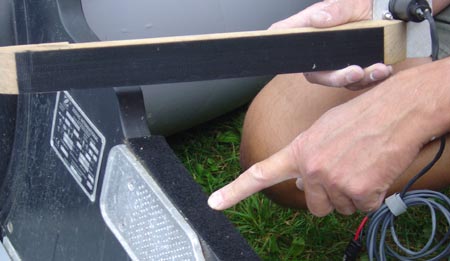 The motor fits perfectly centered each time I reinstall! It was worth the extra effort to cut the fancy shim.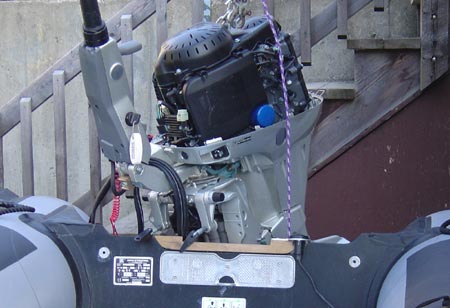 I also attached a custom aluminum bracket to mount the socket for my stern light - perfect for those evening adventures.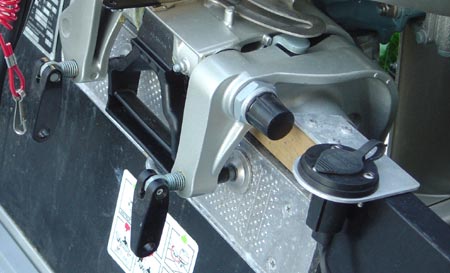 Motor Tilt
The tilt of your motor must also be adjusted, but this is something you can re-adjust depending on the weight distribution and sea conditions.
In a head-on sea you want the motor tilted inwards or negative trim (first or second hole of the tilt pin) which pushes the bow down. Likewise you would want to move some weight toward the bow of the boat.
In a following sea you want the motor tilted outwards or positive trim (third or fourth hole of the tilt pin) which pushes the bow up. Likewise you want to move some weight toward the stern the boat.

Systems for dinghy motors
If you are lucky enough to have a yacht and wish to hang your dinghy on your transom or swim grid while in transit, Weaver Industries is one manufacturer of a pivoting motor mount. They call it the Weaver Leaver.

Return from Inflatable Boat Motor Mount to New Inflatable Boat Set Up

Return from Inflatable Boat Motor Mount to My Inflatable Boat.com