Bombard: Did You Know That Zodiac Makes These Small Inflatable Boats?
Bombard inflatable boats offer a wide range of models all with the high quality everyone expects from the Zodiac company.


Bombard inflatable boats are all thermo-bonded PVC so seam failure is not something you need to worry about.
Our second inflatable boat was of this brand.
Wow, I thought it was the greatest little boat!
We went on fishing trips, extended camping trips, picnics, sight seeing tours.
We took our family, our friends, our grandparents, our relatives. Everyone enjoyed going out on the water for adventures.
Everyone admired our little boat. It was a Typhoon 420. We mounted a Honda 20hp motor (awesome little motor!) to push it along. It went at a reasonable clip too!
Awesome!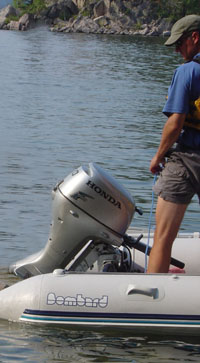 Unfortunately, the dealer that recommended the boat does not feel the way I do about the difference between a boat that is designed and built as a secondary boat, and one that is designed and built as a primary boat.
The Typhoon line of boats are designed and built to withstand light duty use as a tender or a Sunday picnic boat (their website uses the term "Family and Leisure").
The Commando line of boats is their more robust model with transoms glued in with fabric (rather than plastic transom mounts) and aluminum floors and higher engine horsepower ratings.
After two years of extensive use..... I was already starting to notice the Typhoon's weaknesses.
The quality was there.
The durability was not.
I believe it is not designed for regular use as a primary boat.
A boat designed to withstand regular use as your main boat (primary boat) will cost more. For a reason!
It will be built to take it!
The Bombard brand "primary use" boats are called "sport and pro" on their literature. Their "secondary use" boats are called "family and leisure". (at the time of writing - 2009)
They also have a grouping called "tender" which are also designed as secondary boats and includes their ultra-light small inflatable boat models that the yachting crowd loves.
Great brand.
Great quality.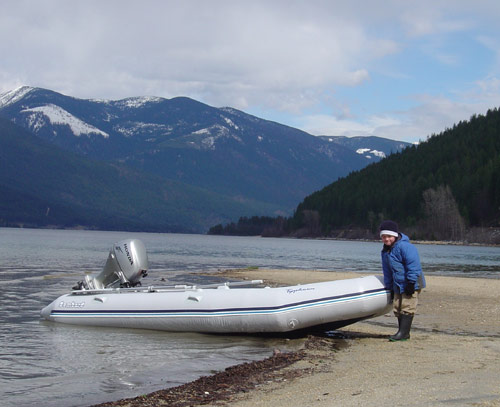 Make sure you know what you plan to use the boat for before you buy.
An interesting aside...... in talking to some very knowledgeable inflatable boat folks they noted that the Bombard brand is most likely Zodiac's testing ground for new ideas (did I mention Zodiac owns Bombard).
This sounds plausible, as why would Zodiac want to damage their brand name testing ideas that may not work.
Is it true or just a story, I will probably never know, and Zodiac would never say such a thing!
It is true that the wooden keel design of the Commandos does not have very good reports following it. Two different dealers and a Zodiac rep at a boat show all told me I would not want a Commando if I plan to take the boat apart regularly.
I was planning to buy a C5. I didn't buy one because of the information I gathered by talking to many people. I chose a different boat.

Return from Bombard Inflatables to Higher Price Boats

Return to My Inflatable Boat.com