Boat Trailers For Sale: The Best Designs, The Best Manufacturers
There are hundreds of brands of boat trailers for sale to make it easier to use your inflatable boat for fishing, family outings, SCUBA diving, water skiing and tubing.


There are a number of things to consider before you purchase a boat trailer. You will want to consider the boat trailer size, the boat trailer design, and the reputation of the boat trailer manufacturers you are considering.
Boat Trailer Size

When choosing a boat trailer you need to know what size to buy, because trailers are built to carry boats within a small size range.
Trailers have weight limits, so add up how much your boat and your motor weights(dry weight), then add the weight of fuel and accessories that will be carried in the boat while towing.
This weight will tell you how much the trailer capacity needs to be.
Now find out how much the trailer itself weighs so you can double check that your vehicle can tow this total amount of weight(boat plus trailer).
A quality dealer will help you determine the trailer size needed.
Luckily, inflatables are generally much lighter than comparably sized boats of other materials, and therefore lighter weight trailers can be used.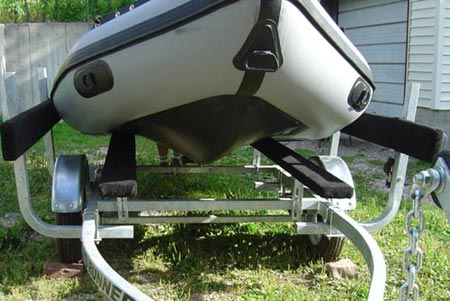 Boat Trailer Design

It is important to consider where the trailer will be used. Is the boat trailer designed for salt water or fresh water?
Boat trailers for sale which are design to be used in salt water must be either galvanized metal or aluminum.
Boat Trailer Manufacturers

Trailer manufacturing varies a lot. The strongest trailers are welded of heavy gauge material and have no bolts to loosen up over time. Compare the gauge of the material being used (how thick it is). Some light duty trailers have pretty thin metal for the structure.
Many boat trailers for sale are made with bolted together U shaped channels. Our first little trailer was an EZ loader and was bolted together U channel galvanized steel.
It worked great!
Our total weight carried was never more than 300lbs/140kg so we weren't very hard on it!
It had sealed oil lubed hubs, so maintenance was not an issue even after repeated dunkings when launching.
Features

Other features you want to look for are adjustable bunks and rollers.
If you are a rib owner, you can choose between bunks, rollers or a combination. Some manufacturers are putting bunks at the rear of the trailer where the motor weight is concentrated, and rollers at the front to make loading and unloading easier.
Sounds like a great idea!
For us collapsible inflatable owners there are a number of designs of boat trailers for sale that fit inflatable boats. At minimum you want extra long bunks.
Similar to trailers for pontoon boats, some trailers for collapsible inflatables have twin V shaped bunks.
We customized our first trailer with twin V shaped bunks, but after a couple years of use, I found that the V shaped bunks supported the inflatable tube higher on the trailer, which made launching and loading more difficult at some boat launch sites.
With a collapsible inflatable, as long as the bunks are wide enough to support the edge of the floor, and long enough to support the transom and motor you will have the start of a good setup.
If you have some good custom trailer ideas, let me know and I will share them with other boat owners.

Brands

There are many trailer manufacturers. Just be sure you are buying from a certified builder!
Some of the North American Brands are listed here. There are many many more!
AB
Backtrack
Bear
Boatmaster
BoatMate
Caulkins
Continental
Eagle
Excaliber
EZ Loader
Float-On
Four Winns
Haul-Rite
Heritage Custom
Highliner
Karavan
King
Load Rite
Loadmaster
Magic Tilt
Marine Master
Mastercraft
Metal Fabrication
Pacific
Ram-Lin Trailers
Ranger
Remeq
Road King
Road Runner
SC Trailers
ShoreLand'r
Tebben Enterprises
Tennessee
Tidewater
Tracker Marine
Tuff Trailer
Dorsey
Trailmaster
Tuff
Vanguard
Yacht Club
Return from Choosing Boat Trailers For Sale to Boat Trailers
Return to My Inflatable Boat.com