Boat Running Lights And Navigation Lights
Boat running lights or navigation lights are a required part of setting up your boat if you ever plan to be out after dark.


Setting up lights on a collapsible inflatable boat can be a bit of a challenge as there is not much to attach them to. You either need to glue on some custom pads to hold the lights, or come up with another custom mounting system.
There are a number of brands of small battery operated lights available that can be clamped to the gunnels of a tin boat... but how are you going to attach that front light on an inflatable tube?
Let me share what I have done.
My set up for our first collapsible inflatable with a pull start 20hp motor used battery operated lights. I fabricated a custom bracket that slipped on to one of the plastic buttons on the bow of the boat. The buttons where designed to hold the bow bag.
It worked great.
For the white stern light I mounted the light on a piece of copper pipe and again fabricated a custom bracket out of plastic to mount to the transom. I wish I had taken photos before I sold the boat.


On our current boat, with a 30hp electric start motor, I wanted to use boat running lights that did not require remembering to change small batteries, as I now have a starting battery that gets charged by the engine.
I purchased lights that could be wired to a 12 volt system, and again custom fabricated brackets to hold them.
My
goal was like most people - make it for as little money as possible, make it easy to mount, make it stay in place, and make it to look professional.
Here is the bracket for the stern light. I mounted it to the motor shim I use to lift my motor 1 inch. It is cut out of a small piece of aluminum plate. The light neatly plugs into the receptacle. The wires stay coiled up out of the way, and when I need them, I simply stop for a few moments to uncoil the wires and plug them in to the battery connection, pull the light mast out of the storage box and install it in the light receptacle.
On the bow light,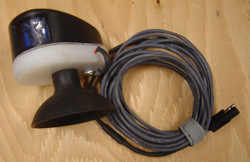 the suction cup, which came with my battery operated lights actually works very well on the Hypalon material of my Zodiac Grand Raid. It did not work on the PVC fabric of my Bombard Typhoon. I just fabricated a mount to connect the light to the suction cup. I store it in my boat trunk and pull it out when needed.
Everything works just as planned. Easy to install, easy to carry, never have to think about dead batteries.
I highly recommend putting the effort in to design a system that will work for you.

Return from Boat Running Lights to Setting Up Your Inflatable

Return to My Inflatable Boat.com